Description
Our Casquets is an evolution of the classic Guernsey design that has all the qualities of the traditional jumper.
The rib at the top of the sleeve is said to represent a sailing ship's rope ladder in the rigging, the raised seam across the shoulder a rope and the garter stitch panel, waves breaking upon the beach.

Originally a local fisherman's working garment, the traditional design includes a diamond under the arm for ease of movement and extra strength. It is knitted with close stitches from tightly twisted wool and this gives it its ability to withstand sea spray and rain.

Traditional Guernsey jumpers were knitted by the womenfolk of the fishing and farming families of the islands, when many earned their living from the sea or the land. The distinctive pattern was handed down from generation to generation the knitting skills passed on from mother to daughter.
Our wool starts it's life upon the fells and downs of the British countryside. The garments we produce use Worsted* wool which is hand graded for the finest quality and fibre thickness. The wool is then scoured, a cleaning operation that removes excess oils, dirt and dead fibres.
o remove any short fibres the wool is then combed. Removing these short fibres ensures the wool will be less likely to pill or ball-up on the finished garment. Combing also ensures the fibres are parallel and ready for spinning. The wool is then dyed in a very gentle process so as not to damage the fibres.
The next step is to draw the wool. This prepares the wool for the worsted spinning frame by determining a defined weight and levelness, allowing for a very even final yarn. The yarn is then spun and twisted on semi-automatic spinning frames with a vacuum extraction system to remove contamination. The twisting process ensures the yarns are at their optimum strength and softness for knitting.
Our traditional Guernsey sweaters are knitted with close stitches from tightly twisted wool and this gives it its ability to withstand sea spray and rain. The result is a strong, long lasting garment that will hold its shape better in both wear and washing.
* Worsted wool gets it's name from the village of Worstead in Norfolk, one of the manufacturing centres for yarn in the 12th century.
Size Guide
Size

XS

S

M

L

XL

XXL




34

36

38

40

42

44

46

48

50

52

54

Chest (flat) – inch

17

18

19

20

21

22

23

24

25

26

27

Chest (flat) – cm

43

46

48

51

53

56

58

61

64

66

69

Body length – inch

26

27

27

27

28

28

29

29

29

30

30

Body length – cm

66

69

69

69

71

71

74

74

74

76

76

Sleeve length – inch

19.5

19.5

19.5

19.5

20.5

20.5

20.5

21.5

21.5

21.5

21.5

Sleeve length – cm

49

49

49

49

52

52

52

54.5

54.5

54.5

54.5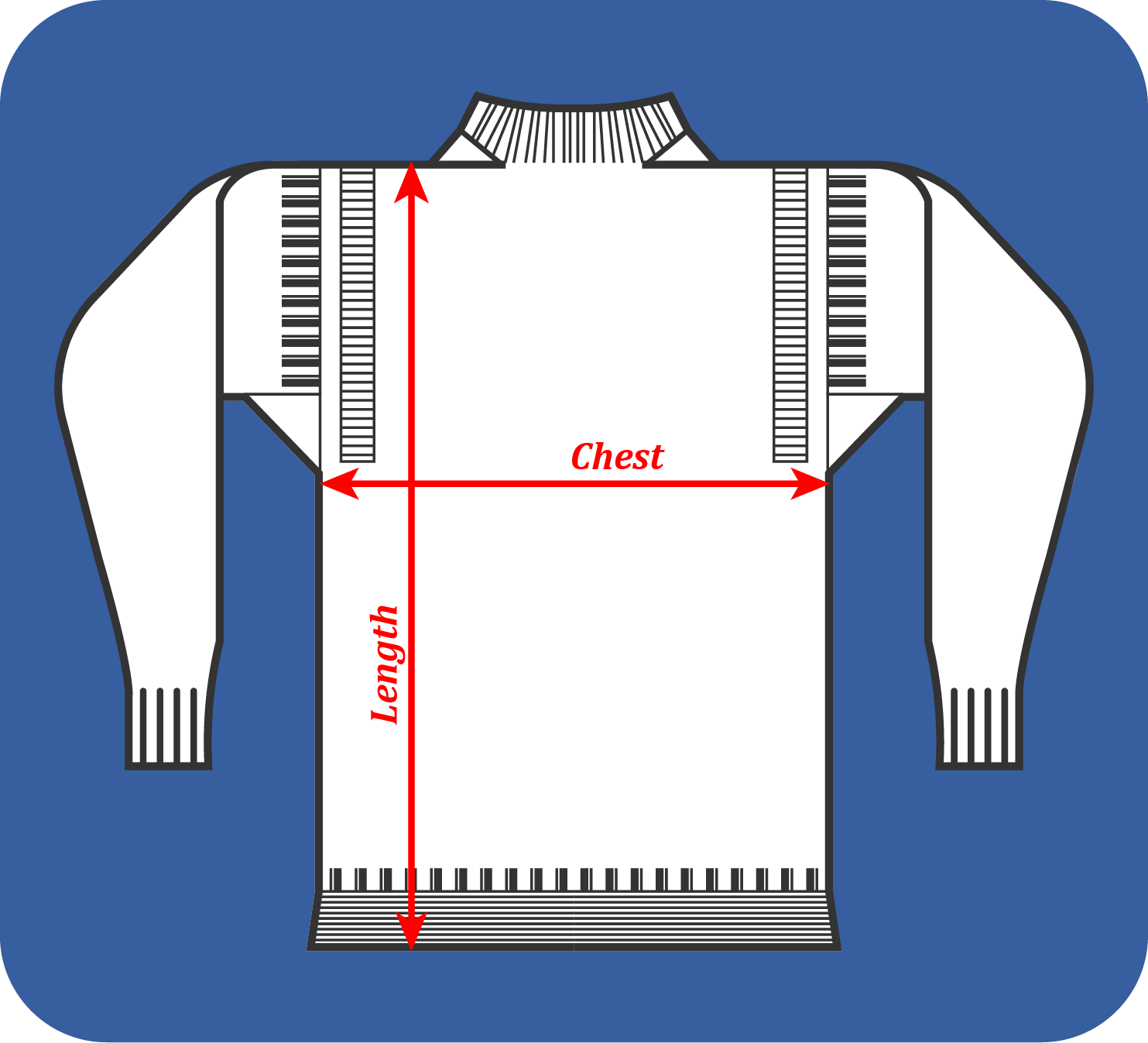 Sizing guideline:
Take a jumper that you currently own and like the fit of (some people prefer their jumpers loose, others tight) and lay it on a flat surface. Measure the width of the jumper between the two side seams on one side in inches. When you double this measurement, you will get your size.
Even if you have an existing Guernsey which already has a size in it, we recommend customers still take a measurement as Guernseys can last many years and may have grown ever so slightly with use. If the current fit is how you like to wear the jumper then this is what should be measured.
Payment & Security
Your payment information is processed securely. We do not store credit card details nor have access to your credit card information.