Description
The traditional Guernsey jumper has a story to tell.
The rib at the top of the sleeve is said to represent a sailing ship's rope ladder in the rigging, the raised seam across the shoulder a rope and the garter stitch panel, waves breaking upon the beach.

The traditional Guernsey jumper was originally a local fisherman's working garment, hence the diamond under the arm for ease of movement and extra strength. It is knitted with close stitches from tightly twisted wool and this gives it its ability to withstand sea spray and rain.

Traditional Guernsey jumper were knitted by the womenfolk of the fishing and farming families of the islands, when many earned their living from the sea or the land. The distinctive pattern was handed down from generation to generation the knitting skills passed on from mother to daughter.
Size Guide
Size

XS

S

M

L

XL

XXL




34

36

38

40

42

44

46

48

50

52

54

Chest (flat) – inch

17

18

19

20

21

22

23

24

25

26

27

Chest (flat) – cm

43

46

48

51

53

56

58

61

64

66

69

Body length – inch

26

27

27

27

28

28

29

29

29

30

30

Body length – cm

66

69

69

69

71

71

74

74

74

76

76

Sleeve length – inch

19.5

19.5

19.5

19.5

20.5

20.5

20.5

21.5

21.5

21.5

21.5

Sleeve length – cm

49

49

49

49

52

52

52

54.5

54.5

54.5

54.5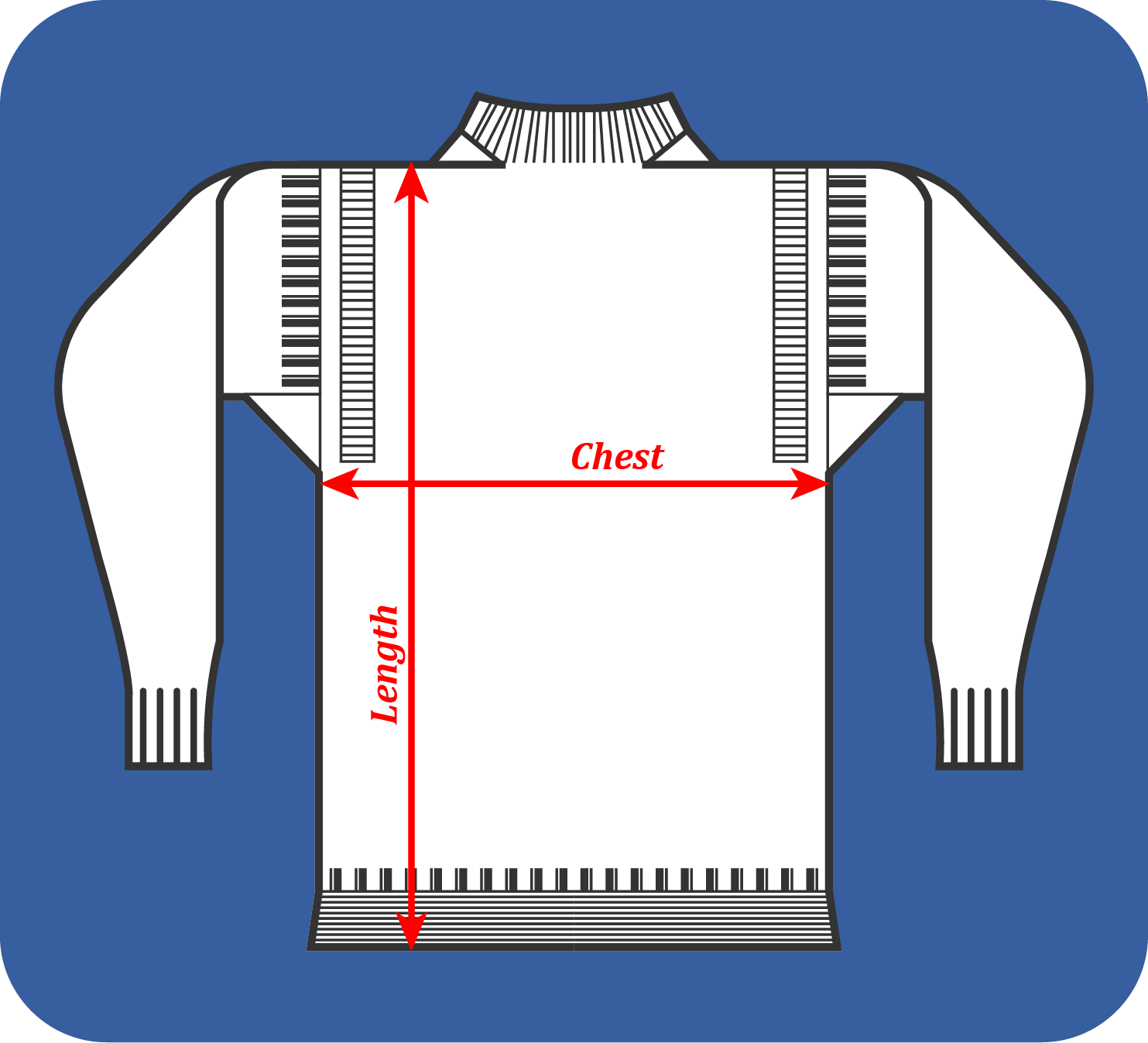 Sizing guideline:
Take a jumper that you currently own and like the fit of (some people prefer their jumpers loose, others tight) and lay it on a flat surface. Measure the width of the jumper between the two side seams on one side in inches. When you double this measurement, you will get your size.
Even if you have an existing Guernsey which already has a size in it, we recommend customers still take a measurement as Guernseys can last many years and may have grown ever so slightly with use. If the current fit is how you like to wear the jumper then this is what should be measured.
Our new shop at Portsmouth Historic Dockyard is based directly next to the world-renowned IBTC Portsmouth, enabling us to serve the next generation of ships and adventurers, providing a one-stop shop for sailors.
Water bound customers can even request a berth on a pontoon directly outside, where we offer our 'Click and Collect at Sea' service... a world first (we think!)
If you would like to organise to 'Click and Collect at Sea' using our pontoon service then do not hesitate to contact us on 020 7836 9034, or email jane@arthurbeale.co.uk.
You can find us at:
Storehouse 9, Portsmouth Historic Dockyard, HM Naval Base, Portsmouth PO1 3LJ
Monday - Sunday: 10:00 - 17:00 
Payment & Security
Your payment information is processed securely. We do not store credit card details nor have access to your credit card information.